Our Dogs..
Quote: My little dog - a heartbeat at my feet.
~ Edith Wharton
Catalan Breed Standard - Gos D'Atura
Our objective on this page is to provide you with the Catalan Sheepdog breed standard. Please click on the following external link to the interim breed standard on the Kennel Club's site.
Catalan Breed Standard (Interim)
Many people consider Catalans as smaller Briards which arguably is what they are; the colourations are similar; they both share double dew claws, they are herders and temperaments are similar.
As of 1st January 2009 we are now able to show the Catalan's on the import register.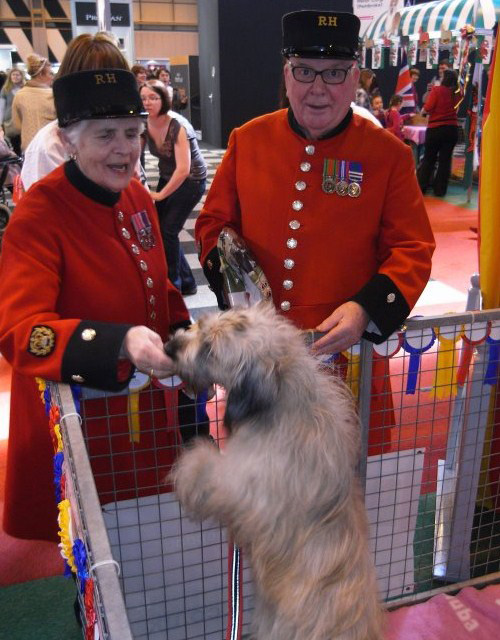 Holly - one of Mei's Pups at Krufts Catalan Sheepdog Discovery day
If you are not familiar with the Catalan Sheepdog breed here follows the FCI data for Catalan Sheepdogs
The Catalan Sheepdog Origin: Spain Height: Dog: 47-55cm (18-21ins) Bitch: 45-53cm(17¾-20ins) Group: Herding Weight: 35 - 45 pounds Coat: long and wavy Colour: Fawn, Black / Tan, Sable, Gray. For the UK official specification visit: KC of GB
The FCI Description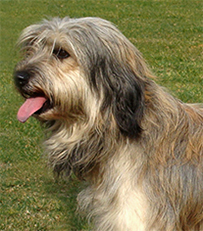 A very sedate dog, active and intelligent, with a noble expression, with a hardy and pleasant character. Really devoted to the shepherd and the flocks entrusted to him; can be wary of strangers, which at times make him seem unsociable. He is very vigilant, very resistant to heat, cold and all atmospherics. A very frugal alimentation is sufficient for him to work in extreme conditions.